Other Parts of the United States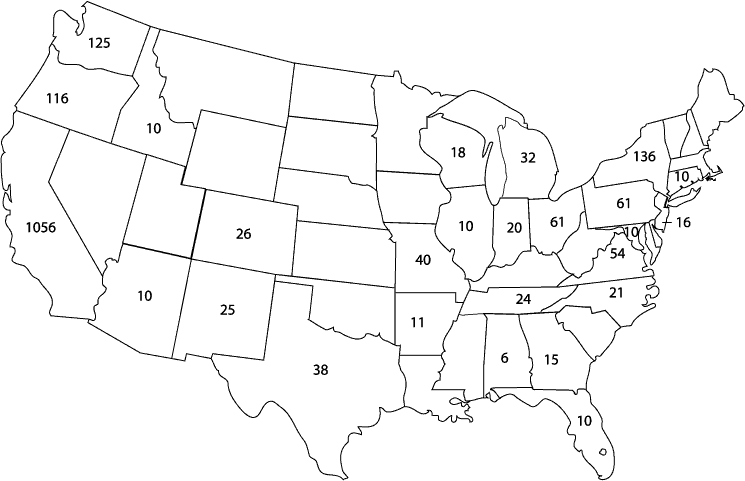 Overview
Grape vines were among the earliest plantings made by the European settlers in the United States. The lush forest were also filled with native grape varieties, and the settlers turned to these when the imported vines failed to flourish. The wine made from these native grapes were less than ideal, and so began a struggle that continues to this day to find the perfect grapes and match them to the perfect climate through North America. As the population moved West, so did the grape vines, again, with mixed results. It wasn't until the California Gold Rush would bring thousands of people to the then Spanish colony that the near perfect land for vineyards would be discovered. In the generations that followed vineyards would again be planted, this time with greater success, through the rest of the Country.
Wine is now made, to some degree or another in nearly every State. The map shows the number of commercial wineries (at the time it was drawn) through the US. Many of the States that do not have a number still have wineries, just too small to be counted for this purpose.
It is far beyond the scope of this site to detail the wines of every State, nor have I had to chance to visit them all. Instead I am sharing my impressions of those few I have visited. The reports are dated, the youngest being fro 2006.
Iowa
The first thing a wine writer notices on the way to the wineries of Amana is the complete lack of vineyards.
Since I knew most of the wines were made from fruit, this was somewhat expected, but I had read about Riesling and even Zinfandel being made here, and I was curious where the grapes (much less the fruit) were hiding.
It turns out that almost none of the fruit, and absolutely none of the grapes are grown here. Zinfandel and Riesling from California, and fruit from the local grocery freezer seem to be the basis for these wines. All told, any decent home winemaker could do as well or better than most of the wines I tasted.
Rhubarb and Dandelion wines are the exception. With a long tradition of making these wines at home, the wineries of Amana have carved out a niche, no matter how unusual it may be. These wines were actually fun, and differed from winery to winery.
I wouldn't expect anyone to drive out of their way to try rhubarb wine, but the Amana Colonies are a tourist destination with more to offer than wine (they have a brewery too).
The name Amana may be written on a piece of equipment in your kitchen, and indeed this is the origin of those familiar appliances. Formed in 1855 as a communal society, this tight-knit group still practices their own brand of Christianity, even if the communal life style ended in the 1930s.
The towns (there are several of them that make up the Amana Colonies) are cute and quaint, and draw tourists from far and wide. I was disappointed to see that the gift shops were full of schlock from around the world, instead of the hand crafts that they were once known for.
A careful look around will yield some incredible crafts still being offered, but they are few and far between. Especially check out the unique Garden Critters, hand made copper yard ornaments.
There are better than a half dozen wineries in walking distance from each other, but bring your sweet tooth. The better wines (and I use the terms better and wine loosely) are very sweet and they will wear out your palate quickly.
When the wines and gift shopping have tired you out, be sure to visit the Millstream Brewing Company for good beer (and even better root beer).
Southwestern Michigan
At last! Vines as far as the eye can see. Granted, many of them seem to be Concord grapes, but more than a few are the old familiar friend of the wine writer, the Vinifera grape.
This part of Michigan (as opposed to the part of Michigan I will not see on this trip) is well set up for wine touring. Just an hour or two outside of Chicago, the wineries here have big tasting rooms, and are prepared to be inundated.
There is a wine trail with corresponding map, to follow. This makes finding the wineries relatively easy (although our GPS was even more help). Most are within a few miles, or even a few feet, from each other.
All of the wineries offer sweeter wines, which I found to be more successful than the dry reds, but they offer these sweet libations with a twinge of guilt. There is a common feeling that only the dry, especially red, wines are "serious" wines.
This sugar guilt is pretty common in nascent wine regions, I have run across it in various areas, but especially New Zealand. This is not the only comparison I can make with New Zealand, or at least the New Zealand of two decades ago.
Southwest Michigan too, is suffering from an identity crisis. Not only the sweet dilemma I mentioned, but a searching for the ideal grape variety and style. Europe has always had the advantage here, generations ago they worked out the proper grapes for the micro climates (at least in theory). This trial and error period is time consuming and expensive, and the winemakers here know it.
The upshot is that most of the wineries grow 15 or more types of grapes and make various styles of each. There are simply too many choices for the consumer and confusion is inevitable. On the plus side, there is something for everyone.
Starting from the south and working your way north, Tabor Hill is one of the first wineries you will run across. They have a tasting room right off the highway, but their winery, and restaurant is far out in the country, surrounded by vines. Dinner at Tabor Hill was built up as spectacular, and indeed the view was. The food was less inspiring, and most of the wines were not our favorites from the area.
We visited nearly every winery in the region, and they were universally charming, friendly and well prepared for visitors.
Here are the wines that most impressed me:
N.V. Tabor Hill Winery, Grand Mark Sparkling Wine (Champagne method and grapes.)
2004 Lemon Creek Vineyards, "Moon Shadow" Cabernet Sauvignon Ice Wine (a rare and wonderful treat - the name comes from the fact that the grapes were picked on the night of a lunar eclipse.)
2003 Lemon Creek Vineyards, Vineyard Select White (Vignole)
2004 Domain Berrien Cellars, Marsanne
2003 Domain Berrien Cellars, Cabernet Franc
2004 Karma Vista Vineyards & Winery, Sauvignon Blanc
2004 Fenn Valley, Dry Riesling (the wines of this property were of an overall higher quality.)
2003 Fenn Valley, Chardonel
2003 Fenn Valley, Pinot Noir (light and almost bubble gum sweet in the nose, but the most "typical" Pinot I tasted in the area.)
Missiouri
This series is more about wine touring, than the wines they make at those locations. As such, I am going to skip over the various wineries we have visited in the last few days, and concentrate on a single property that epitomizes the emphasis on wine touring, even to the detriment of the wine.
South of Saint Louis, just an hour away, in the heart of the country, lies the quaint town and wine region of Ste. Genevieve, Missouri. A visit to the tasting rooms in town is not much different than any other tasting room.There are wines to taste, and gifts to buy.
Follow the wine route out to the country and again it all seems like any wine country anywhere. Lots of country, and a few vines. That is until you turn on to Highway WW. Obviously, they were thinking WoW when they named this road!
Crown Valley Winery (and neighboring Chaumette Winery) are huge. Not just by the standards of a Midwestern winery, but by any standard. The parking lot can hold dozens of busses and hundreds of cars. The building is simply impressive in scope, and the thousands of acres with Elk, Bison and Angus cattle (much less vines) add to the surreal surroundings.
Here is what wine touring is really about. An hour from a major city, this is an adult fantasy land. As in any amusement park those that come here come to indulge. The hordes sip and swallow with very little regard for what they are tasting. Quantity, not quality, is the catch word for these consumers, and so the winery gives them what they are looking for, while conspicuously charging for everything they can.
Crown Valley Winery is by far and away one of the best funded wine ventures I have ever seen, anywhere. From the imported French wine maker, to the countless plastic wrapped barrels just waiting to be used, no expense has been spared. There is no wine technology they don't have, and no whim unfulfilled. All to make mediocre wine that nobody is really paying attention to.
There is a chicken and egg thing here. Since the consumers do not expect quality, and they are willing to buy anyway, there is little attention paid to making the best wines possible. Since the wines are mediocre at best, the consumer pays little attention to what they are drinking. A vicious cycle that is in the winery's favor, since the consumers still buy almost 50,000 cases a year from Crown Valley alone.
There are tigers and musicians and picnic areas galore. There is an incredible walk to the tasting area where you promenade directly over the tops of the stainless steel fermenting tanks. There is every wine nick knack known, just waiting to be bought. What there isn't, is a tradition or even an expectation of quality wines.
With the exception of the sweeter white wines, I have not been a big fan of much of the wine of the Midwest. It seems unlikely that these wines will make much of a dent in the national marketplace, but they don't really have to. As long as there are people willing to visit, and to buy from the winery, there will be a place for these properties. From the quaint mom and pops, to the megalithic destinations, wine touring is alive and profitable, in Missouri.
In a striking contrast to the amusement park like Crown Valley, Stone Hill Winery is a 150 year old property that is working hard to raise the bar for quality wine in Missouri.
The history of Stone Hill is a familiar one. In the 19th century Missouri was a thriving wine producing region, rivaling any in the country. In the early 20th Century that pesky ole Prohibition put an end to the appellation and the winery.
For decades the hallowed halls were used to grow mushrooms. Hardly a fitting use for the cellars that were hand carved out of the hill side, so long ago.
In the 1960s the mushroom farmer had a twinge of guilt and sought out Jim and Betty Held and asked them to return the winery to its original purpose and glory. Overcoming their resistance with an offer too attractive to pass up, the Helds re-opened Stone Hill Winery in 1965.
The Helds were serious about their commitment to creating quality wine, and when their children were old enough they sent them to off to learn the craft. First at University, and later at some of the top wineries in the world. The next generation of Helds returned to Stone Hill, armed with knowledge and brimming with enthusiasm.
Their passion shows through in their wines. By far and away these were the best made wines we found in the Midwest, much less in Missouri. Nor are they resting on their laurels. While chatting with the Held's daughter, the ever personable Patty Held-Uthlaut I noticed she dutifully noted every comment, pro or con, I made about the winery and the operations.
The willingness to explore ideas, even when they come from a verbose wine writer like myself, is a rare and wonderful trait in any industry, and all too rare in the wine business. This is the dedication to improvement that will launch Stone Hill into national distribution long before their neighbors.
Located in Hermann, an hour and a half or so west of St. Louis, the Stone Hill Winery is an impressive old property with sprawling stone structures. This is the original winery, and their success has spawned two more. One for sparkling wine, and the other to produce a very respectable Cream Sherry.
This main winery has the ubiquitous tours and restaurant that support the thriving tourist trade, but here there is a difference. The tasting room is not in the middle of the gift shop, it is a clean, clutter free environment where you, as the Held's have, may concentrate on the wines themselves.
When you visit Stone Hill Winery, spend a little more time on the wines, it is worth it. And if you see Patty running around in her guise as Director of Public Relations say hello for me, and see if she has time to share the history and wonder of her family's heritage.
Mt. Pleasant is yet another large property with an even larger parking lot. Their tasting room is the usual collection of gifts and wines for sale and they charge for tasting (as is common near St. Louis). I would love to see a more professional tasting environment (like the one at Stone Hill) but Mt. Pleasant is catering to the casual visitor, and they know what they are doing.
Mt. Pleasant has Cabernet Sauvignon and Chardonnay planted. A rarity in the Midwest as most of the vinifera based wines I tasted were made from California fruit. This is not to say that Mt. Pleasant is making world class Cab and Chard, at least not yet.
The Cabernet Sauvignon was not at all successful, but the Chard was heavily oaked, with lots of buttery flavors (from the secondary fermentation) and these common winemaking flavors hid any and all fruit the wine may have had. The style was more than a little reminiscent of some well known Napa Valley Chards (I don't like those either) and so will probably sell pretty well.
Mt. Pleasant's Chardonel (a Chardonnay hybrid) was more to my taste, with some actual fruit along with the heavy handed winemaking flavors.
Port like wines are common throughout Missouri and it might turn out that these are the most successful on a national scale, but hybrid whites such as Chardonel, Vidal and Seyval seemed to me to be what the state does best. The red native grape Norton is Missouri's official grape (also sometimes called Cynthiana) and while I tasted many examples of various quality, I was never impressed. It is the basis of the state's port wines and this may be where it shines, because as a dry red wine it ranged from unpleasant to unexceptional.
The lush rolling hills of Missouri are a sport car enthusiasts idea of heaven (I would have had much too much fun in a Porsche) and there is no question that the grape wines are of a higher quality than any of its neighbors, but fruit wines and low expectations still abound.
Kansas
Standing between me and my home state of Colorado is the unlikely wine producing state of Kansas. Steeling myself for what I assumed would be a sea of indifferent fruit wines, I plunged ahead.
My first stop was Wyldewood Cellars, who's billboards and high perched roof promised me a taste of wine as I zipped down I-70. As I feared, fruit wines were lined up for tasting and I dutifully saddled up to the bar to do my part.
I was pleasantly surprised by their Elderberry wines. Their semi-sweet and Reserve Dry styles were both well balanced and well made. They each had a complexity of flavors I was delighted to find. Once again my biases were dealt a blow as I realized that talent, like wine, may come from the most unexpected quarters.
Generally I have little to say about fruit wines, not because I don't think they are worth talking about (although this is not altogether an undeserved admonishment) but mostly because I have nothing to compare them too. I have tasted thousands, even tens of thousands of grape wines, and so I know what to expect, and how to judge them. Fruit wines are just outside of my scope.
Fortunately, Kansas did have grape wines to offer me. Smokey Hill Winery presented me with a wide selection of wines all made from Kansas grapes. The Merlot that they were proud of did not wow me, but it did have a touch of recognizable character, although their Cabernet Sauvignon was not even that successful. What they did well, is what so many others have done well throughout this Midwestern foray, they made decent lightly sweet, and even very sweet wines.
Smokey Hill's simple red wine, labeled appropriately enough as Simply Red was pleasant. With enough residual sugar to hide any off flavors it was easy to enjoy, and would probably be great with pizza. The real find though was their intensely sweet red wine called Opulence. Complex and not as cloying as some sweet reds, it was the stand out wine of Kansas for me.
Colorado
This was my home state for many years, and I would love to be able to report that the wines are wonderful and that Colorado wines will be appearing at all the best restaurants around the world.
While I would love to give that report, this isn't it. Colorado wines are better than some, but with very few exceptions, simply are not very good - yet. The exceptions, as is so often the case, are the odd dessert wines here and there.
There are the usual plethora of wineries, just as in the states to the east of us. And just like those wineries in the Midwest, it is the touring itself that is worthwhile, more than the wines.
The tasting rooms are pleasant, even if I never saw one with a tasting friendly white counter (it is hard to judge the color of wine without a white background to look at). The people at the wineries are kind and helpful, albeit they tend to be a tad biased about the quality of their wines.
What keeps the Colorado, and so many other region's wines, from being as good as the more traditional wine producing areas? This is a complicated question, and I am far from having the whole answer, but let's look at what is required to make good wine anywhere.
Climate/ Micro Climate - The average temperature is one of the best known ways of judging if a region is suitable for grapes, and by extension, which grapes. Average temperature is not the entire story. The extremes count, and so does the amount the temperature can fluctuate in a day. Cloud coverage, the amount of rain, unusual weather like hail and frost, these are all climatic considerations for planting wine grapes.
Micro climate are small areas where the weather is different than all around. River valleys, and hillsides are two common examples.
Soil - The soil that a vine is planted on is critical. Unlike many crops that require rich topsoil, grape vines thrive in gravel and soils with good drainage. That is because a grape vine is like an iceberg, most of it is hidden from view. A mature vine can have roots that are 30 feet long, or even longer. Slight variations in soil, along with micro climate, are responsible for a great deal of the specific character of a wine.
Grape Variety - Picking the right grapes for the right combination of soil and micro climate is a hit or miss proposition. It takes 5 to 10 years for a vine to become mature enough for you to tell if the choice you made was correct, so there is a lot riding on getting it right. Combine this with the fact that any grape you can name is actually broken down into many subtypes called clones.
You not only have to pick the right grape variety, you have the pick the correct version of it. Each grape, and each clone of each grape, have varying degrees of resistance to diseases and pests as well their handling of the other variables. Ultimately consumer tastes and the popularity of one grape variety over another is all too often the deciding factor in planting.
Winemaker/Vineyard Manager (the human factor) - The person that makes the wine (as well as the one that tends the vines) has the final say over what happens to the wine. There is an old saying in wine, that I just made up - It takes great genius to make a decent wine from bad grapes, but any idiot can screw up the best of vintages. There are many decisions that have to be made during every point of the vine growing and wine making process. No matter who you are, there is a learning curve to every new wine. You have to work out all of the details, even though the variables keep changing. The best winemakers can adapt and recover from most bad choices or bad luck that happens during the process.
So where does Colorado fall short? The climate can be pretty extreme. In the Palisades region I just toured, it can get to 100 during the day, and 60 at night, That is a lot of stress on the vines. It is a very dry climate (politically as well, water rights are a big deal out here). The soil is too often hard packed clay, not allowing surface water to make its way down to the roots. The grape varieties are even more often the ubiquitous Cab, Chard and Merlot and inexplicably the cool weather grape Riesling.
I also noticed an increasing trend towards the Northern Rhone varietals Viognier and Syrah. In an odd twist I was pretty vocal 20 years ago about the need to choose grape varieties that were better suited to the region. I even mentioned the Rhone grapes, but I was talking about the Southern Rhone grapes, like Mouvedre, Grenach and Cinsault. I would also like to point out the Viura based white wines of the Rioja region of Spain, much less the recent improvement in wine making practices of the similarly warm area.
Making wine is a lot harder than many people think. In theory, grapes left alone and slightly mashed, will turn into wine on their own, or at least a form of wine. In practice, it is a matter of constant vigilance, watching what the grapes, and later the wine are doing, and making sure it all remains headed in the direction you wish it to.
Just from tasting the 50 or so wines I did the other day, I can tell you by their commonality that one of the biggest problems winemakers are facing, is the heat. If grapes are too warm when they are picked, the fermentation can be too hot, and this can lead to many problems. Even if the fermentation goes off as expected, the higher heat means less extraction of color and flavors. The resulting taste is referred to as "Rancio" and is related to the maderized flavor of wines that are intentionally made in the presence of oxygen.
What is the answer? You can't change the climate, except for irrigation and a very few other factors. Soil can be changed, there are cases of wineries digging more than 50 feet to create more ideal vineyards, but this is outrageously expensive. That leaves grape variety, vineyard management and wine making.
Colorado, for better or worse, has little to none of the hybrid varieties that are found in almost all of the states further east. What it does have are the most popular grape varieties grown in California. That they are not as successful here as they are in California seems to be beyond debate. One of the comments from the "civilian" taster I brought along was "All of these wines are awful, and the wineries always think they are great. Don't they ever taste their own wines?"
So which grapes should Colorado use? There are 10,000 to choose from. A lot more experimentation needs to be done before there is an answer. This also means educating the public that there are wines beyond Cab and Chard in the world.
I saw a lot of awful vineyard management, and that is a shame. There has been a revolution in the last decade or so in the way that vines are tended. More people, and not just in Colorado, need to pay more attention to the details in vineyards.
Wine making will improve in time, with luck. As with any endeavor, some are more gifted than others. Too often, capitalization is more of a factor in success than skill, so those that survive are not always the highest quality. Time will tell.
Colorado has seen an explosion of wineries in recent years, and I have far from covered them all yet. To date I am not impressed with the wines as they stand now, but I have been around long enough to know where they were, and there has been a marked improvement. What needs to happen here, is what needs to happen everywhere, someone needs to lead the way in experimentation. That is what schools are for, and there you will find the next generation who will, without a doubt, know more than I about what needs to be done.
Colorado is a huge area. It has amazing diversity in climates, and not all of it is perfect for wine, but much of it is. This does not mean it is not suited for wine. italy and Spain are similar in size and climate to Colorado and each of them are major wine producers. Colorado has potential, but it needs to learn some tough lessons, or it will never discover how good it really can be.
Pennsylvania
Pennsylvania has a huge number of wineries, and that number keeps growing. I was only able to visit a few, and only in two out of the seven general regions. Therefore, I can't speak for the rest of the State, but those wines I did get a chance to taste, were impressive.
I just happen to be out here, appraising a wine cellar, and like any good wine writer, I couldn't pass up the chance to visit the nearby wineries. I am glad I made the effort, because the wines that I tasted, with few exceptions, exceeded my expectations.
This is no easy task. Those of you that have been following my Wine Road series know that I have been concentrating less on the quality of the wines, and more on the wine touring experience as a whole. In part, this has been in response to a flurry of disappointing wines, as well as to my desire to convince the world that visiting wineries is just plain fun.
In particular there have been three wineries, each quite different from the others in appearance, but similar in approach, that have caught my attention. It is the desire to improve, the willingness to experiment and the passion for their craft that make these producers stand out.
The first, in order I visited rather than any indication of ranking, was Chaddsford Winery. Situated in the Philadelphia Countryside region (according to the Pennsylvania Wines Guide), Chaddsford makes a huge variety of wines. The staff is not only knowledgeable, they are passionate about their wine education. The winery encourages this, going so far as to assist them in the economic side of learning about wines. I have rarely seen any winery, anywhere with such a highly trained staff. All of their wines are worth trying, but I was particularly impressed with their Pinot Noirs.
The next two wineries are in the Lehigh Valley region, just west of Allentown. It was there that I had the pleasure of visiting Vynecrest Vineyards and Winery. Vynecrest has been growing grapes for years. Carefully assessing the success of the varieties they grow, and showing a laudable willingness to experiment with new and even untried grape varieties. There is no question that they are are performing an invaluable service for the neighboring wineries, as well as for those throughout the rest of the State. I have asserted before that matching grape varieties to specific regions is one of the most important keys to quality, and Vynecrest is leading the way.
Also in the Lehigh Valley is the Clover Hills Winery and Vineyard. At first I was somewhat dubious as I approached the winery. The tasting room was a massive structure, with plenty of parking for busses, all too often a sign that the winery is less interested in promoting quality than they are in making a buck.
I could not have been more wrong. Clover Hills was not a new winery, as the impressive edifice had led me to believe, rather it was one that had grown due to its success, and now offers a place for corporations and other groups to come and learn about wines. The tasting room was spacious, scrupulously clean, and above all, as if to please just me, bright with plenty of white surfaces to inspect the color of their wines.
All three wineries produce high quality wines that would not be out of place anywhere in the world, but are particularly impressive for a wine region that most people don't even know exists. Time will tell if Pennsylvania is about to become one of the few commercially viable wine producing states, along with California, Washington, Oregon and New York, but it is certainly well on its way.
If you live in the Mid-Atlantic States and have not visited these, and their neighboring wineries, it is time to take a trip. If you have not visited recently, it is time to go back. If you can't get out to this part of the world, remember, there are almost certainly wineries near you that you can visit, and while they may or may not be of this quality, chances are you will still have a great time.