Canada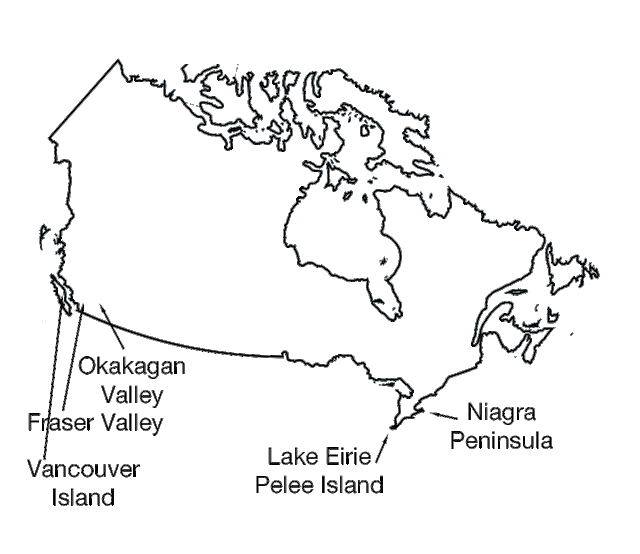 Overview
In California heat is the enemy of the vine. The best vineyards are cooled by ocean breezes or mountain heights. For Canadian wine makers cold is the danger. Only a few regions in the vast country have shown promise for growing quality grapes, but quality wine they do produce. Canada is slowly moving away from the French Hybrid grapes that have limited their wine's appeal, towards the more traditional grape varieties. These newer wines will have greater marketing potential and will continue to drive interest in this emerging player on the world stage.
British Columbia
Situated just north of Washington State, British Columbia shares many of the same growing conditions. With over 5,000 acres planted to vines, the region is set to become a real player in the market on both sides of the border.
To the east is Okanagan Valley, which is tempered by a huge lake, allowing it to better withstand the brutal winters. Just as in the Columbia Valley to the south irrigation is the key to growing here. The area is almost a desert, and without watering vines would never survive. The region is ideal for crisp white wines.
Just north of, and adjacent to the Puget Sound region that surrounds Seattle, British Columbia's Fraser Valley and Vancouver Island also have their share of vines. Because of its proximity to Seattle and Vancouver, the region was already littered with bed and breakfasts and scenic destinations. As the awareness of wineries in the area grow, this is sure to become a tourist destination to rival Napa and Sonoma.
Ontario
Niagra Peninsula is almost as famous for its world class icewines as it is for the falls that bear its name. This unique peninsula is blessed with an unlikely set of circumstances that allows for wine cultivation. The lakes temper the climate, allow for greater growing seasons, and the land mass itself deters damaging frosts.
While the uneven ripening of red wines here continue to make for huge vintage variation, an increasing number of Cabs and Merlots are being produced, along side Chardonnay and the more likely Riesling and Vidal Blanc.
Lake Erie Shore and Pelee Islands are far to the southwest of the famous peninsula and its falls. Lake Erie is the mitigating factor here, and while it does help to keep the roots of the vines from freezing, the lake itself often freezes deeply. This results in rough winters and uneven conditions. The crisp light wines of the region are best for consuming young.
Prince Edward County is an up and coming area, with 14 wineries as of this writing.