Bordeaux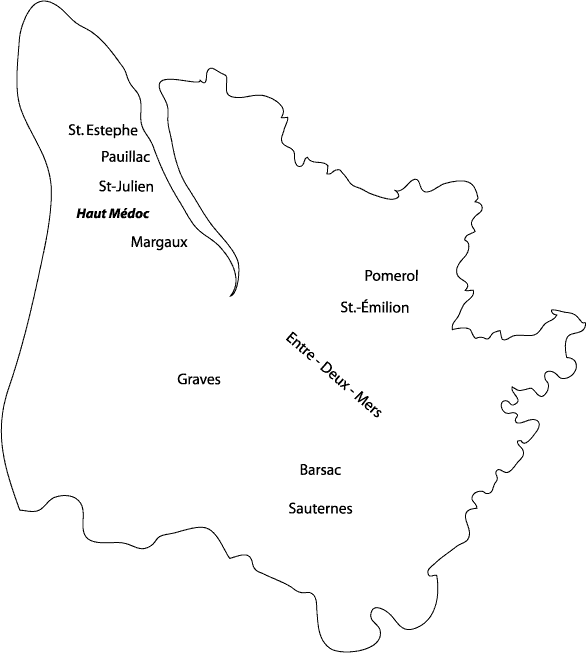 Overview
When most people think of Bordeaux they think of the famous wines of the Haut-Medoc that bear such names as Ch. (that is the abbreviation for Chateau, I will use it throughout this page) Margaux, Ch. Lafite Rothschild, Ch. Mouton Rothschild, Ch. Latour, and Ch. Haut-Brion. These 5 wineries, often referred to as the Big 5, are so famous that it is tempting to forget about the other several thousand Chateaux in the region.
In fact Bordeaux is so rich in wine that it accounts for 34% of the total value of all French wine exports. It is a huge business in the area, with 1 in 6 people involved somehow in the various aspects of the trade.
Grapes
The undisputed red wine grape champion of Bordeaux is Cabernet Sauvignon. Almost always blended with Merlot and to varying degrees Cabernet Franc, Malbec and Petite Verdot.
For white the grape of quality is Semillon sometimes blended with Sauvignon Blanc, or Sauvignon Blanc on its own.
There are a host of other grapes in the region, but these are the primary grapes and almost always used for the base of the wine.
Sub Regions
The Haut Medoc is the most famous sub region, it is further divided into (South to North and generally increasingly heavier in style):
The Haut Medoc is primarily Cabernet Sauvignon based wines with some Merlot.
• Margaux - 1 Premier Cru, Ch. Margaux.
• St-Julien
• Pauillac - 3 Premiers Cru, Chs. Lafite, Latour and Mouton.
• St-Estephe
• Graves (not in the Haut Medoc at all but grouped with it because of the quality) - 1 Premier Cru, Ch. Haut-Brion. Graves is also well known for its whites.
Across the Gironde River are the regions of:
Here Merlot is often used alone or with increasing amounts of Cabernet Franc as the price goes down.
• St-Emilion - 12 Premiers Grand Cru and most of the rest fall into Grand Cru Classes
• Pomerol - No official ratings (only major region in France without a rating system) - Ch. Petrus is considered the best (and for many the best there is). Overall very high quality wines. Strangely there is no real town of Pomerol.
• The surrounding areas are often referred to as the Satellite Villages. There are 12 villages that can either use St-Emilion's name or add it to their own.
The unbelievably wonderful sweet white wines of Sauternes and Barsac are farther east (inland). There is 1 Premier Grand Cru (in all of Bordeaux) Ch. d'Yquem, as well as 11 Premiers Cru, 13 Second Growths and many more Minor Growths .
Entre-Deux-Mers (between 2 seas - the Gironde and Dordogne rivers) has been called a sea of white wines. Indeed much quantity, and some quality is made in this region.
Label Info
There are more classification in Bordeaux than some regions have vineyards. Most well known is the classification of 1855 that created the 5 classes of Cru Classe wines of the Haut Medoc. Wines that did not fall into any of the first 5 Growths are rated (in descending order):
• Cru Exceptionnel
• Cru Bourgeois Superieur
• Cru Artisan - no longer used
• Cru Paysan - no longer used
In St. Emilion the order goes Premier Grand Cru Classe and then just Grand Cru Classe.
Bordeaux or Graves Superieur both mean a wine with at least 1 degree of alcohol higher than the minimum allowed.